There are a myriad of symbols that can be found on UK food and cosmetics packaging – but what do they actually represent? From the Mobius Loop to the Green Dot, this guide will give you all the information you need to understand what each common UK packaging symbol means.
The Mobius Loop
 
Contrary to popular opinion, this well-known symbol indicates that the material the packaging is made from can be recycled. It is often confused with the idea that it suggests the packaging is made from recycled materials. Whilst this may be true at times, the symbol itself signifies that most recycling collection systems will accept the packaging and in some cases there is a percentage in the middle to explain how much of the product comes from recycled materials.
Vegetarian

Another important food packaging symbol is the indicator that a food product is suitable for vegetarians. The Vegetarian friendly packaging symbol can vary, however, typically it can be recognised as a V inside an oval or on it's own.
Vegan
As veganism continues to gain traction, the vegan-friendly symbol is being used more than ever. The use of this symbol on a product confirms that the item has been tested and approved by the Vegan Society – offering reassurance and legitimacy for vegan consumers.
FSC Certified Paper

As the consumer world becomes ever more environmentally conscious, there is significant pressure on manufacturers to use sustainable packaging. However, not all paper packaging comes from responsibly-sourced wood. The FSC Certified Paper symbols inform sustainability and eco-conscious consumers that the wood pulp used for this packaging is sourced using environmentally friendly methods. 
The Green Dot

The Green Dot logo does not actually mean that the packaging in question has been recycled, nor that it can be recycled. It simply signifies that the producer has made a (usually financial) contribution towards the recycling of packaging. It is mandatory in France, Portugal, Spain, Greece and Cyprus whilst voluntary in most of the rest of Europe (including the UK). 
Resin Identification Code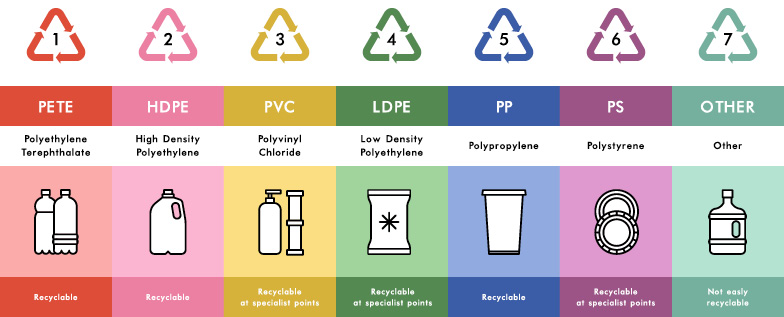 Whilst it's not mandatory to display a Resin Identification Code on all packaging in the UK, there are seven codes which determine the type of plastic used to create the products packaging. Please see the table below to see which code represents each type of plastic.
The Fair Trade Mark

Fair Trade International focuses on protecting the environment whilst also ensuring sustainable livelihoods for both farmers and workers. As a well recognised food packaging symbol, the Fair Trade Mark is well trusted and established. In order for a food product to be Fair Trade certified, companies must work cohesively to ensure that their operational practices and processes meet the specific standards of the Fair Trade Mark. 
Compostable

A registered trademark owned by European Bioplastics, the "seedling" symbol proves that a product is certified industrially compostable according to the European standard EN 13432. Successfully certified products will fully biodegrade in an industrial composting plant under controlled conditions such as temperature, moisture and time frame – leaving nothing behind but water, biomass and CO2.
OK Compost

Similar to the Seedling logo, the OK Compost packaging recycling symbols indicates that the pack is compostable in an industrial composting unit. 
Widely Recycled

This recycling symbol is used on packaging that is collected by 75% (or more) of local authorities across the UK. This includes, for example, cardboard and plastic bottles.
Aluminium

This symbol is used to indicate aluminium packaging that is fully recyclable (including foil, fizzy drink cans etc.).
Leaping Bunny
This label certifies that the product is cruelty-free and was not tested on animals. In order to display this label on their products, companies must take a pledge that none of their products or any ingredients have been tested on animals.
Period After Opening (POA)

Since cosmetics products can degrade over time and can cause products to go bad including causing skin infections, this label indicates the shelf-life of a product after opening before it is considered to be expired and should be thrown away. The number followed by the M stands for the specific number of months the product is good after opening.
Estimated 'e'

The E symbol indicates that the product was filled using "average fill system". So, if this E appears under the amount in grams or milliliters on the package, it means that the product contains the amount advertised. This must appear on all products sold in the EU.
If there are any symbols that you come across that you don't understand drop us an email with the logo and we will investigate and report back.